The National Standard of Canada, CSA Z16686:20, Osteopathic healthcare provision, helps standardize the core competencies, educational requirements, and the ethical framework for manual osteopathic care across the country. CSA Z16686:20 also helps safeguard patients and provides assertion of the quality of care they could receive via manual osteopathic treatment. Based on the 2015 European Standard EN 16686 of the same name and the World Health Organization (WHO) 2010 'Benchmarks for Training in Osteopathy', it brings Canada in line with the best and most widely accepted standards in this field.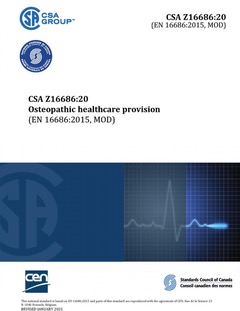 Image published with permission from CSA Group
CSA Z16686:20
CSA Z16686:20 was developed by CSA Group in accordance with internationally recognized protocols. It is available for purchase on the CSA Store.